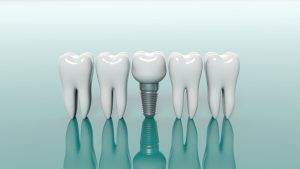 Bridges, partials, and dentures have been used for generations to treat tooth loss. They are tried-and-proven solutions to replace missing teeth; however, now there's another option. Over 500,000 people each year are choosing dental implants to rebuild their smiles. Although you've likely heard about their benefits, you probably have several questions because they are different from what you're used to. Here's are the basics of dental implants to make the best decision for your smile.
Replaces the Entire Tooth
Traditional dental prosthetics only mimic the portion of a tooth above the gum line. A dental implant differs because it replicates the entire structure, including the root. A titanium post will be surgically placed into your jawbone to serve as a root. A special fixture called an abutment is attached to the post to connect your custom-made restoration. A dental implant can be used to replace a single tooth or to support a bridge or denture, so several teeth don't need to be treated individually.
Looks and Feels Natural
Since both the root and crown are recreated, your replacement teeth will closely look and feel like your own. Your restoration will be carefully crafted from all-ceramic material to match the appearance of your real teeth to blend in when you smile. With your jawbone supporting the dental implant, you'll never have to worry about any slipping or irritation. You can regain up to 70% of your natural biting force to enjoy many of your favorite foods again, including steak.
Preserves Your Jawbone
When a tooth is lost, the underlying bone will slowly deteriorate because it won't be stimulated by the root. Over time, your remaining teeth will lack the support they need, so they can drift from their positions and even fall out. With an implant post replicating your root, it will stimulate your jawbone to encourage new growth. As the only treatment to stop bone loss in your jaw, you can avoid common issues associated with missing teeth to reduce your overall oral health expenses.
High Success Rate
Dental implants are the most successful method to treat lost teeth because they have over a 95% success rate. You'll advantage from predictable and reliable results for a long-term, cost-effective investment. Dental implants can last for decades with the right aftercare, like maintaining your oral hygiene. You'll save money down the road because you won't need to pay for replacements every few years like traditional prosthetics.
Dental Implants 101
Your dentist will explain the entire process and address all your concerns during your initial consultation. Take your first step toward a complete smile by scheduling an appointment to see if dental implants are right for you.
About Dr. Christina Papageorgiou
Dr. Papageorgiou earned her dental degree at the University of Michigan School of Dentistry. She has been honored by various awards for her clinical expertise. She completed additional training at Spears and Pankey Institutes to provide advanced services, like dental implants. If you're ready to replace your lost teeth, contact our office today to schedule your consultation.