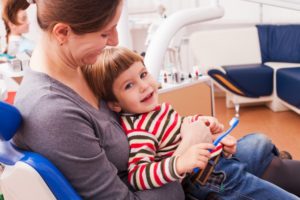 Data from the Center for Disease Control show that among children aged 5-19, nearly 19% of them have untreated cavities. The greater danger, though, is the development of poor oral care habits that can migrate into adulthood. Is there a way to prevent tooth decay and to set a standard for excellent dental health? Your children's dentist in Natick says there definitely is, and as you continue reading, you'll discover the power of being proactive!
Bacteria –The Enemies of Oral Health
The primary foe of oral health is bacteria growth. Although they are always present, the types of foods eaten, the consistency with which oral hygiene is performed and the maintenance of regular check-ups, contribute to keeping bacteria at bay.
It's necessary to always be mindful of bacteria growth because whenever food is eaten, they are eager to gather around any leftovers and feed on them. As they dissolve the remaining debris, they release caustic fluids that can eventually wear down the enamel (the protective outer layer of the teeth).
Thankfully, these microorganisms can be controlled with consistent efforts.
Preventive Care to Avoid Tooth Decay
The best form of treatment for any dental health issue is prevention. Thus, it's important to take the following proactive measures to ensure your little one has the best oral health possible:
Practice Excellent Oral Health – Simple tasks like brushing and flossing at least two times a day are of paramount importance when it comes to preventing the growth of bacteria.
Control Sugar Consumption – Although most children love to eat dessert items and candy, this habit could wreak havoc on their teeth and gums. To prevent any unwanted decay, it's best to place some limits on the daily consumption of sugar.
Maintain Six-Month Appointments with the Dentist – Your main ally when it comes to protecting your child's teeth and gums is your dentist. Thus, it's important to visit every six months for cleanings and examinations.
Positive Habits Established Early
Since the majority of the adult population in the U.S. has some form of gum disease, it's vital to instill positive oral health habits early in life to act as a preventive means. Thus, the formative years can be fertile ground to plant seeds of excellent oral health that will endure well into the future.
To receive professional assistance with reaching your goal of superb dental health for your little one, contact your dentist in Natick to schedule a visit today!
About the Author
Dr. Christina Papageorgiou earned her dental degree from the University of Michigan School of Dentistry. She has since gone on to have an award-winning career, which includes the Pierre Fauchard Academy Award for Excellence in Clinical Dentistry. Throughout her many years of practice, Dr. Papageorgiou has remained committed to further expanding her knowledge by taking hours of continuing education, which includes advanced training from the prestigious Spears and Pankey institutes. She helps children get the right oral health start by providing preventive care at Papageorgiou Dental Associates, and she can be reached for more information through her website.