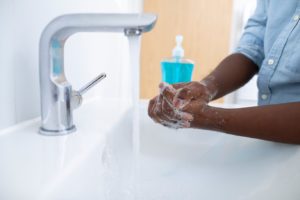 Did you know that the importance of handwashing wasn't discovered until the 1800's? When nurses and doctors began washing their hands before procedures, rates of illness and mortality declined dramatically. Now we take the prevalence of handwashing for granted, but it remains one the most important things you can do to prevent the spread of COVID-19 and other viruses and bacteria. Keep reading to learn how a dentist in Natick practices hand hygiene each day. You'll also get tips to make sure your handwashing technique is effective and truly gets the job done!
Handwashing In the Dental Office
Frequent, thorough handwashing has always been an important part of infection control in dental offices. Every staff member washes their hands often throughout the day, including:
Before and after each procedure
When they're finished cleaning a treatment room
After snacks, meals, and using the bathroom
Each time their gloves are removed
Proper Handwashing Technique
Many people do a quick, 10-second wash that simply isn't effective. Instead, use the following steps to make sure you're removing viruses and bacteria (this is the same method dental professionals learn in school and use each day in their practice):
Start by running your hands under clean running water.
Use plain soap (you can use anti-bacterial formulas but they don't offer any extra protection against viruses such as COVID-19) and create a rich lather. Vigorously rub your hands together for 20 seconds. That's longer than you think, so you can either count to 20 or sing happy birthday or the alphabet twice to account for the time.
Pay close attention to your fingertips, nails, and in between your fingers and thumb to avoid missing any areas.
Rinse thoroughly and dry your hands well with a clean paper towel. Then use it to turn off the faucet and exit through the bathroom door.
Can You Use Hand Sanitizer Instead?
While handwashing is the preferred choice because it's more effective, hand sanitizer can certainly be helpful when soap and water aren't available and convenience is required. For example, it's a great choice for front desk staff in a dental office, or when you've left the grocery store or pumped gas. With that said, look for a product that contains between 62-95% alcohol to make sure it's effective.
By following the same handwashing guidelines used by a dentist, you can rest easy knowing that you're reducing your risk of getting COVID-19 and staying healthier overall!
About the Author
Dr. Christina Papageorgiou has many years of experience as a dentist in 01760 and has a long track record of academic and professional excellence. She and her team are very diligent about handwashing and encourage their patients to practice good hand hygiene at home as well. If you'd like more information or have any questions, she can be reached via her website.