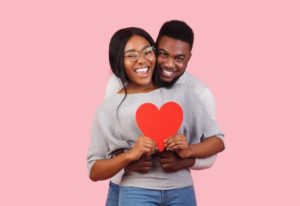 When you think of the month of February, you probably picture the color red. Odds are you imagine love hearts, roses, and… bleeding gums? That's because February is National Gum Disease Awareness Month. That means it's the perfect time to talk about gum disease, and specifically, how it can harm the health of your heart as well as your mouth. Let's talk about this link and how you can avoid the need for gum disease treatment in Natick.
What Is Gum Disease?
Gum disease is a bacterial infection in your gum tissue that can be caused by a number of factors, including:
Tobacco use
Having misaligned teeth
Poor oral hygiene
Going without your regular dental cleanings
Having cavities
If you notice symptoms like bleeding gums in Natick, constant bad breath, or red, tender, or puffy gums, you might have gum disease. While these symptoms sound bad enough by themselves, they can also result in teeth that become loose and even fall out! If that wasn't bad enough, gum disease impacts more than just your mouth.
How Does Gum Disease Affect Your Heart?
Any germs that have access to your mouth can eventually reach the rest of your body. This is especially true when it comes to gum disease. When you have gum disease, your gums eventually pull away from your teeth, creating pockets. Bacteria from your gum tissue can then travel through these pockets to your bloodstream, eventually settling in your heart. From there, they can cause important arteries to narrow, resulting in an increased risk for heart disease.
Another popular theory for the gum-heart connection is inflammation, which is an immune system response to infection. Inflammation that begins in your mouth can set off a chain reaction of inflammation throughout the rest of your body, including your heart.
How Can You Prevent Gum Disease?
To save not only your oral health, but your heart health too, here are some tips to keep your gums in good condition:
Use a fluoridated toothpaste to brush your teeth and along your gumline for two minutes at least twice daily.
Floss at least once a day. Ideally, you should floss after every meal. Flossing is the only way to remove food debris and bacteria from between your teeth.
For good measure, rinse with an antibacterial mouthwash every day.
Eat a diet rich in fresh fruits and vegetables and low in sugary and starchy items.
Avoid cigarettes and chewing tobacco, as they increase your risk of not only gum disease, but oral cancer.
See your dentist for a checkup and cleaning every six months. They can remove built-up plaque as well as diagnose gum disease while it's still early enough for relatively easy treatment.
While you can certainly apply these tips during National Gum Disease Awareness Month, they should also be implemented year-round. After all, gum disease doesn't care what time of year it is!
About the Author
Dr. Medha Singh is a dentist in Natick, MA who received a Certificate of Advanced Education Program in Periodontology (treatment of the gums) from Tufts University School of Dental Medicine. She has also become an Academic Fellow of the American Academy of Oral Medicine as well as the American Academy of Periodontology Foundation. Her practice offers periodontal therapy so that you can kiss bleeding gums goodbye and save your heart. To learn more, visit Dr. Singh's website.