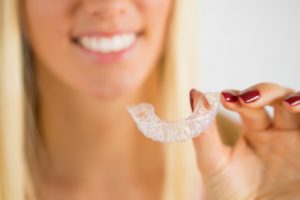 You weighed the pros and cons of traditional metal braces, but after you learned more about teeth-straightening options you ended up choosing to pursue a smile upgrade with clear aligners. As the day draws near to get started, you realize you could benefit from further info on how to prepare for Invisalign treatment. Keep reading to get some helpful tips from your dentist in Natick.
Scale Back on the Snacks
If snacks are a big part of your day-to-day activity, it will be important to make some adjustments in that regard during Invisalign treatment. After all, you need to be wearing your aligners 22 hours daily. Making sure your three meals per day are more satisfying is an excellent approach.
Pack your breakfast, lunch, and dinner with nutrient-rich foods like healthy fats, lean proteins, and complex carbohydrates. The sooner you shift your eating habits the better, so you'll know some food staples that really satisfy your appetite even before day one of treatment.
Brush After Every Time You Eat
This is another reason shifting your food focus to three meals per day is important – so you aren't spending all day brushing and flossing. Again, starting your new eating habits before Invisalign treatment makes a lot of sense. It will give you the chance to get used to oral care after you eat at a restaurant, so you become more efficient in keeping your mouth clean. If you've done a good job of getting your dental kit ready, you will be well-equipped to protect your Invisalign after mealtime.
Prepare to Make Payments
Certainly, part of how to prepare for Invisalign is a financial consideration. Besides the upgrade to your smile, a major aspect of getting dental services is ensuring that you have the payments covered. When you know how to tackle the financial aspect of treatment, it can work wonders to reduce your anxiety.
Do you have dental insurance benefits? Does your dentist have a special offer for Invisalign patients? Would it help you to utilize flexible financing and space out your payments? The key is to determine what's best for your situation.
Get a Dental Kit Ready
Knowing that you're going to need to brush your teeth after each meal, a dental kit makes a ton of sense. It will help prevent your aligners from staining and being a breeding ground for bacteria. Items like travel-sized toothbrushes, toothpaste, dental floss, and mini mouthwash are all logical components of a kit to help your Invisalign treatment stay on track.
Have Your Supplies All Set
A dental kit is only part of your smile supply list. You're going to automatically get your aligners and a storage case as you begin treatment. There are others you'll need to acquire on your own, such as the PUL Invisalign removal tool, extra-strength Tylenol, or toothpaste for sensitive teeth, depending on what is beneficial to your specific needs.
Generally, in life, an activity is simplified when you have proper planning. When you know how to prepare for Invisalign treatment and you follow through on it, you are maximizing your odds of getting a straighter smile with minimal obstacles along the way!
About the Author
Dr. Christina Papageorgiou earned her dental degree from the University of Michigan. She has been awarded for her efforts in clinical dentistry and special care dentistry, plus she's received recognition in the U.S. and Japan for her dental research accomplishments. Dr. Papageorgiou is a proud member of the American Dental Association and the Academy of General Dentistry. If you are interested in Invisalign, she and her experienced team are ready to help teens and adults straighten their teeth. You can schedule a consultation in the morning, evening, or on the weekend if needed on her website or by calling (508) 545-1126.