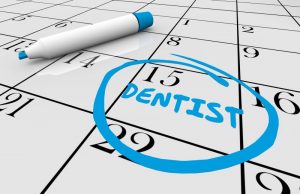 Many people prioritize their health at the beginning of a new year, and in 2021, health feels more important now than ever before. Rather than cutting entire groups of food out of your diet or getting up an hour early to run a mile every morning, why not set a more reasonable health goal by scheduling a dental checkup in Natick? These biannual appointments are a great way to keep your smile and your whole body healthy. Plus, there's no better time of year to schedule them than January. Here are three reasons why.
1. Look and Feel Your Best in 2021
Have you ever run your tongue over your teeth and noticed they felt almost fuzzy? Have you noticed yellow spots on your teeth near your gums? Both of these problems are caused by a buildup of plaque, a sticky biofilm filled with bacteria. While you can clear away plaque by brushing and flossing, some of it gets left behind and hardens into tartar, which only a dental professional can remove.
During your dental checkup and cleaning, the hygienist will use special instruments to eliminate plaque from every nook and cranny of your teeth. Then, they will polish your teeth with a special paste. Not only will this reduce your risk of cavities and gum disease, but you'll leave the office with a gleaming, healthy smile.
2. Save Time, Money, and Pain
Many people don't schedule appointments with their dentist in Natick because their teeth feel fine. However, this could cost you more in the long run. Most oral health problems don't cause discomfort until they've seriously progressed. At your routine checkups, your dentist can detect and address these issues before you feel any pain or require pricier treatments.
3. Make the Most of Your Dental Insurance
If you have dental insurance, your benefits likely reset on January 1st. Virtually every insurance policy fully covers two checkups and cleanings a year, but some plans require you to wait six months between visits. Scheduling your checkup early in the year can ensure you get the care your smile needs while making the most of the coverage you're paying for with your premiums.
After the kind of year 2020 was, you deserve to have a happy, healthy smile this year. Start 2021 off on the right foot by scheduling a dental checkup and cleaning.
About the Practice
At Papageorgiou Dental Associates, we have three skilled dentists delivering a comprehensive array of services to patients in Natick, MA and the nearby communities. Dr. Christina Papageorgiou, Dr. Medha Singh, and Dr. Laura Immanuel have decades of combined experience treating patients of all ages. To schedule your next dental checkup in Natick, you can visit their website or call (508) 545-1126.