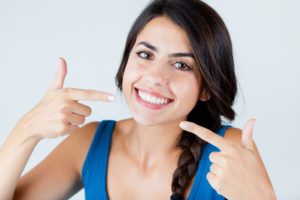 Did you know that Americans spent an estimated 1.4 billion dollars on whitening treatments last year? That's a lot of whitening! It's clear that just about everyone can see the value in having a set of pearly-whites they can feel good about. After all, nothing makes a good impression like a beautiful smile!
But it's important to recognize that not all whitening treatments are created equal. So before you lay down your hard-earned money, why not do a little research first? We'll get you started by reviewing your options for teeth whitening in Natick and how you can benefit from this popular procedure!
In-Office Whitening
When you get an in-office whitening treatment from a dentist in Natick, you're getting the fastest and most dramatic result possible. In the course of just one visit, you can see up to 10 shades' difference in your smile.
This option is perfect if you have an upcoming event on the horizon and want to feel your best as soon as possible! Having said that, if you struggle with cold sensitivity, a more gradual approach to whitening may be more comfortable.
If you aren't sure which option is right for you, scheduling a consultation with a cosmetic dentist in Natick is a great opportunity to ask about your specific needs and goals.
At-Home Whitening
At-home whitening options are also an excellent choice. The main difference is that you'll get your results more gradually and will have more control over the final result.
This option requires two appointments. Here are the basic steps:
At the first visit, we'll take impressions so that we can make custom trays for you.
You'll return about 1-2 weeks later to pick up your new trays, along with a supply of whitening gel and instructions for use.
Whether you wear them during the day or at night, it usually takes about two weeks of daily use to get your final shade.
One of the major benefits of this option is that you'll always have your trays to do touch-ups down the road. All you need to do is pick up a fresh supply of whitening gel from a cosmetic dentist in Natick and you're good to go!
What Can a Brighter Smile Do For You?
Remember, there's more to the quality of your smile than just how it looks. It's also the way you feel when you smile that really gives it that extra "oomph."
Fortunately, the right professional whitening treatment can help with both of those things. With a brighter smile, you'll know you have the extra confidence to shine when you need to make a great impression!
About the Author
In addition to helping their patients achieve outstanding oral health, Dr. Christina Papageorgiou and Dr. Medha Singh love transforming the appearance of their patient's smiles as well. They know that cosmetic procedures aren't a "one-size-fits-all" approach, so they offer a wide variety of options to meet everyone's needs. If you have any questions, they can be reached via their website or at (508) 545-1126.