Dental Implants – Natick, MA
Keeping Your Smile Full and Strong
Missing teeth mean more than just showing embarrassing gaps whenever you smile; your jawbone will start to weaken due to the lost chewing stimulation, and your remaining teeth may start to drift and cause alignment issues. While traditional dentures and dental bridges can help restore your mouth's functionality, they can't prevent bone loss from occurring in the jaw. To protect your health, Papageorgiou Dental Associates can place dental implants – small posts surgically inserted into the jaw – that serve as the "roots" for replacement teeth. Keep reading to learn more about tooth repalcement with dental implants in Natick, MA.
Why Choose Papageorgiou Dental Associates
for Dental Implants?
Implants Placed and Restored In-House
Skilled Dentist and a Friendly Team
Morning, Evening, and Saturday Appointments
What are Dental Implants?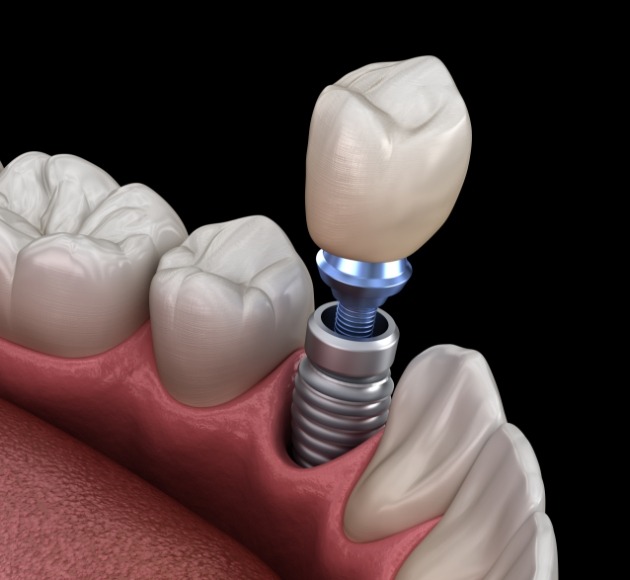 A dental implant is a post that, once placed in the jaw, is meant to mimic the function of a natural tooth root. These posts are made from biocompatible materials, often titanium or zirconia. After placement, they naturally begin to merge with the bone and surrounding tissues in a process known as osseointegration. This fusion is what allows dental implants to provide such a reliable and long-lasting replacement for any number of missing teeth. Once osseointegration is finished, we can secure an abutment on top that will support a lifelike dental crown, bridge, or denture. The end result of dental implant treatment is a tooth loss solution that looks and functions just like your lost pearly whites!
The 4 Step Dental Implant Process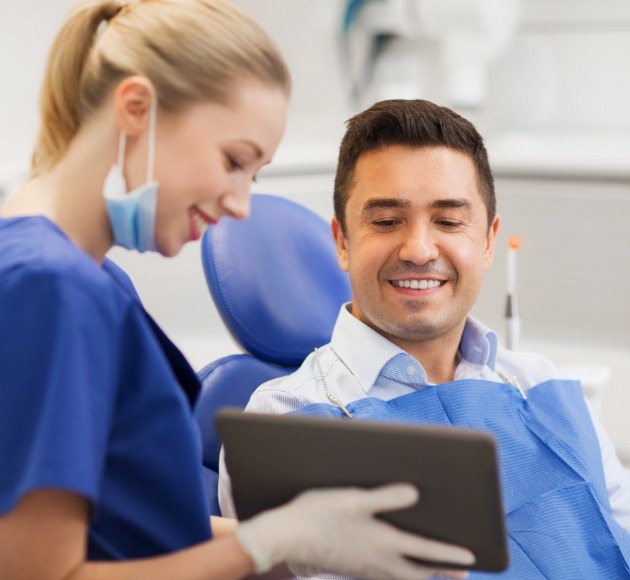 Some dental offices don't place dental implants and will instead refer you to a specialist. Not only is this inconvenient, but it also means the procedure will be performed by someone you're not familiar with. By placing our dental implants in house, we help you avoid unnecessary travel time and ensure that you receive the treatment from a dentist in Natick that you know and trust. Thanks to the expertise of our in-house Board-Certified periodontist, Dr. Paola Buckley, your treatment will be safe, convenient, and comfortable. That being said, the dental implant process does take longer than the process of getting a denture or dental bridge; it may take several months to a year or longer. However, implants can potentially last a lifetime, so they're definitely worth the wait! While each patient's tooth replacement journey is slightly different, here are the four basic steps you can expect.
Initial Dental Implant Consultation
The first step on the path to a restored smile with dental implants is to schedule an initial consultation. During this first meeting, one of our experienced dentists will carefully examine your teeth and discuss your personal smile goals to determine if you are a good candidate for dental implants. If necessary, your dentist may recommend a preliminary treatment, such as a bone graft or sinus lift, to help ensure your treatment is successful. Finally, a personalized treatment plan will be developed that will map out the steps to your new, restored smile.
Dental Implant Surgery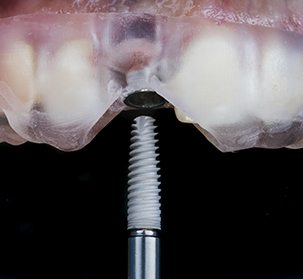 Placing dental implants typically involves a minimally invasive surgery. The word "surgery" can sound scary, but don't worry! Local anesthesia or sedation dentistry will be utilized to ensure your complete comfort throughout the procedure. To place an implant, Dr. Buckley will make a small incision in your gums where your teeth are missing. Next, she will insert the dental implant post into the underlying jawbone. Once the implant is in the correct position, Dr. Buckley will close the gums back up with a few stiches. It's that easy!
Dental Implant Osseointegration/Abutment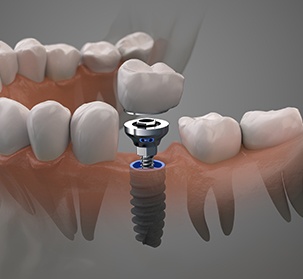 After implant placement, we will give you several months to heal. During this time, the biocompatible dental implant will fuse with the surrounding jawbone. This natural process, known as osseointegration, is what gives implants their maximum stability. Once the implant has fused with the bone, you will visit our dental office again so we can place an abutment. An abutment is an important connector piece that attaches a dental implant to an artificial tooth or dental prosthetic.
Delivery of Dental Implant Restorations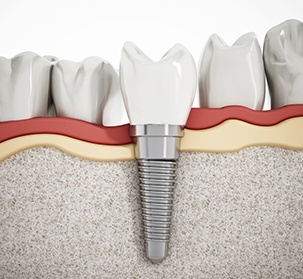 After your gums have healed around the abutment, you will be ready to receive your new crown, bridge, or denture. We will welcome you back to our dental office once more so your dentist can securely fasten your dental restoration to the implants. During this visit, your dentist also will be sure to check that your bite aligns properly and that you feel comfortable overall. Once this final step is complete, you will be ready to walk out of the dental office doors and begin enjoying life with your newly restored smile!
Benefits of Dental Implants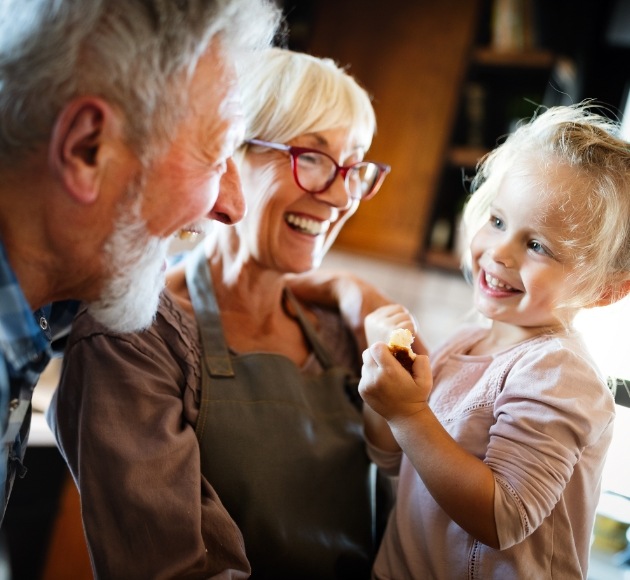 A Healthier Jaw: Dental implants join with the jaw through a process called osseointegration. Because of this, they can provide the stimulation needed to stop bone loss.
Greater Stability: A restoration attached to an implant won't slip, and the improved stability allows the implant to provide chewing power almost equal to natural teeth, allowing you to eat anything,
Long-Lasting: Dental implants in Natick can potentially last for a lifetime as long as they're well-maintained.
High Success Rate: Implants have an estimated 95% success rate.
Who Dental Implants Can Help?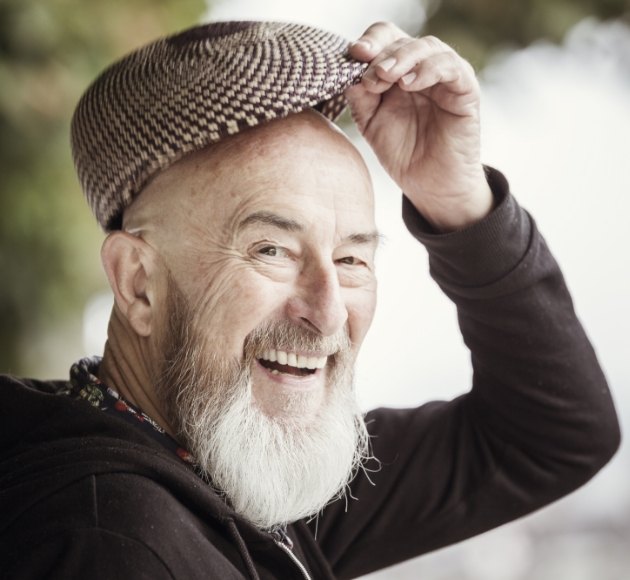 Implants can be used to replace any number of missing teeth, but the exact amount needed depends on what kind of dental restoration they'll support. Depending on your needs, implants can support crowns, bridges or dentures.
Missing One Tooth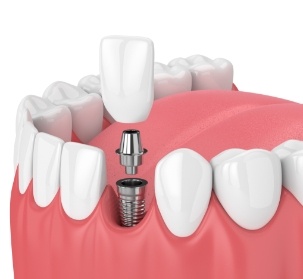 If there's only one tooth missing, it can be replaced with a simple dental crown. Our dentists use porcelain crowns because their shading and the way they reflect the light are similar to that of natural teeth. The implant post will be below the gumline and hidden by the crown, so most people won't realize you've had dental work done.
Missing Multiple Teeth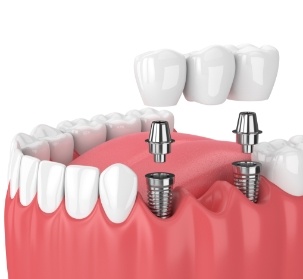 When two or more teeth in a row are gone, they can be replaced by a dental bridge that consists of multiple crowns. Traditional bridges are supported by natural teeth, but this means making alterations to the enamel; a bridge supported by implants will let you preserve more natural tooth structure.
Missing All Teeth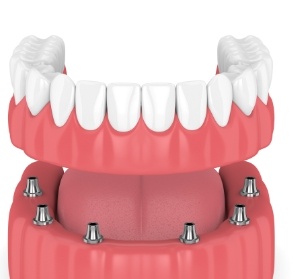 If all of the teeth on one of your jaws is missing, you'll most likely require dentures in order to perform everyday tasks like chewing and speaking. Traditional dentures sit directly on the gum line; as bone loss progresses, they tend to become ill-fitting and more likely to slip. Dentures retained by several implants can help you avoid this problem.
Learn About Implant Retained Dentures
Cost of Dental Implants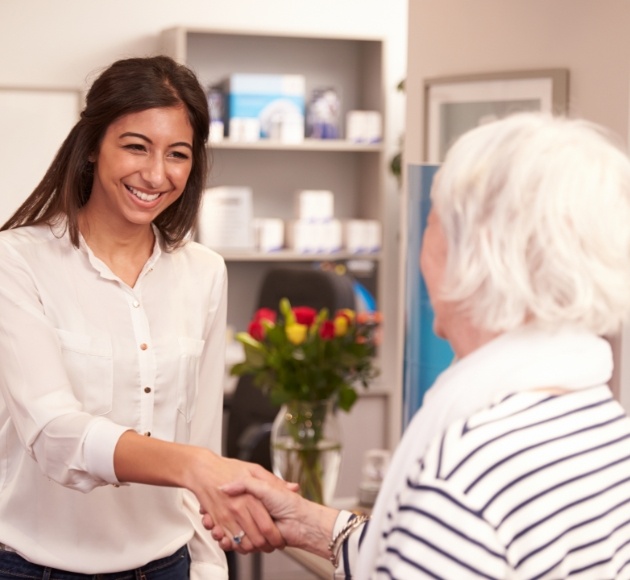 It can be difficult to give a general estimate for dental implant placement because there are many factors that will vary from case to case. This includes the number of implants, the type of dental restoration used, whether an abutment is needed, and so on. However, because implants can last for decades, you can consider them a long-term investment in your smile that will continue to benefit you for years to come!
Dental Implant Frequently Asked Questions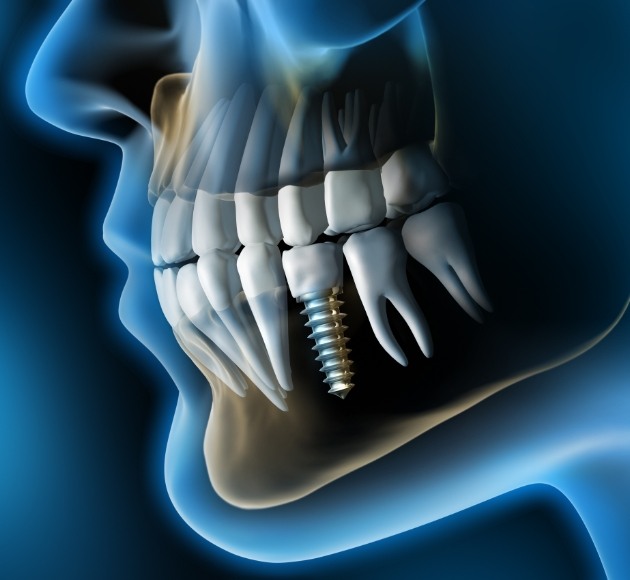 By now, you might be interested in getting dental implants to restore the health and appearance of your smile. However, you undoubtedly have some questions. To help you out, we have gathered some of the dental implant questions that we get asked the most often and answered them for your convenience.
I Smoke. Can I Still Get Dental Implants?
Yes, but there is a greater risk of implant failure. Smoking or chewing tobacco hinders the mouth's ability to heal, which is critical when it comes to the success of your dental implants in Natick. Once implants are placed, your jawbone actually grows around them in a process called osseointegration. This process takes several months, and if your healing ability is constantly compromised by using tobacco, it drastically increases the risk that your body will reject the implant. If you have been looking for a reason to quit smoking, getting dental implants would be it.
I'm Diabetic. Can I Get Dental Implants?
Yes, but like with smoking, the risk of implant failure is higher. If you have diabetes, especially if the condition is poorly controlled, your body has a harder time fighting off infections. In addition, you could take longer to heal. This gives your jawbone more time to potentially develop an infection that could compromise the osseointegration process. If you're considering dental implants, talk to your primary care physician or endocrinologist about how to better manage your diabetes first.
How Long Do Dental Implants Last?
Dental implants are designed to last at least 30 years, and may even last for the rest of your life if you take proper care of them. Implants are not susceptible to dental diseases like tooth decay, but the health of your gums is still critical to their long-term success. Use a soft-bristled toothbrush and dental floss to clean around your implant restoration every day, and see your dentist in Natick every six months for a professional cleaning and checkup to make sure your implant is still in good condition.
Does It Hurt to Get Dental Implants?
You will likely be under some form of sedation when you receive your implants. That, coupled with plenty of local anesthetic, means that you should feel minimal discomfort during the procedure. Afterwards, you can expect to feel some soreness, as with any type of surgery. Take over-the-counter pain relievers as recommended. We may also prescribe some prescription pain relievers, depending on your case. Just remember to only take the recommended dose.