Dentures – Natick, MA
Don't Go Through Life Without Teeth
Is your smile incomplete? Dr. Christina Papageorgiou of Papageorgiou Dental Associates can help. Using custom-made partial or full dentures, our Natick, MA dental team can help you overcome the variety of problems associated with multiple missing teeth. These problems can vary but often include difficulty speaking and eating, a loss of self-confidence, and even the reduction of bone in the jaw resulting from the loss of your tooth roots.
Why Choose Papageorgiou Dental Associates
for Dentures?
Implant Placement Performed In-House
Convenient Saturday Appointments
Experienced Dentist and Friendly Team
Effective Care with Traditional Dentures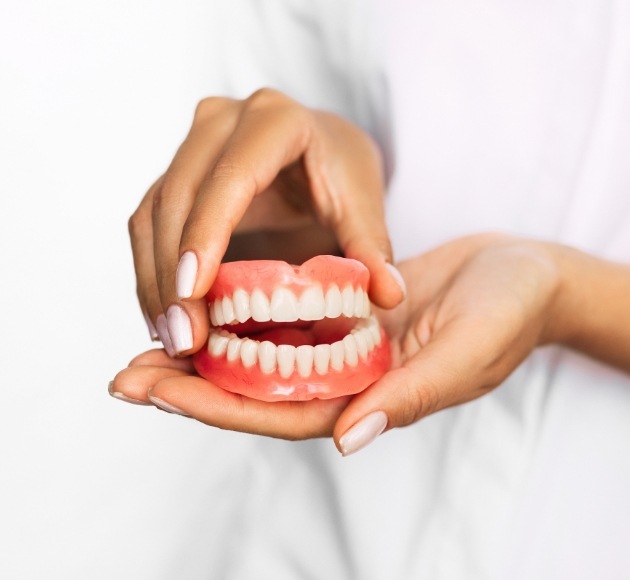 Traditional dentures are designed to make speaking and eating easier. They can also improve your confidence by filling in gaps or replacing a full row of teeth. Partials consist of multiple prosthetic teeth spread out on a gum-colored base and are typically held in place with clips or brackets. Full dentures, on the other hand, are made to replace an entire row of teeth and are typically held in place with suction or a denture adhesive that can be purchased from a local grocery store or pharmacy.
Outstanding Results with Dental Implants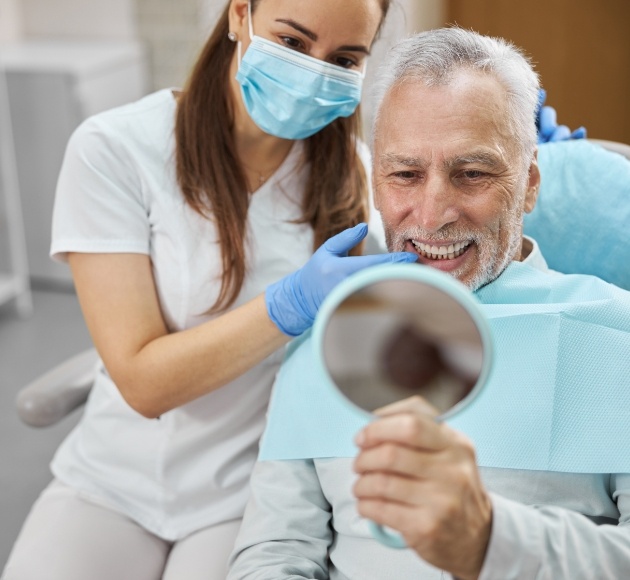 Traditional dentures are just one option for doctors and patients to consider, though. Even more functionality can be achieved with dentures supported by dental implants. That's because implant-supported dentures use prosthetic roots to promote bone growth in the jaw, resulting in a smile that functions just like a natural smile. Not every denture patient is a candidate for implant-supported dentures, though. That's why a consultation visit is so important to any kind of dental care, especially care with dentures. Through a consultation at our Natick dental office, we can help our patients from Framingham, Sudbury, and beyond understand whether implant-supported dentures are a possible option.
Personalized Care for Natick and Beyond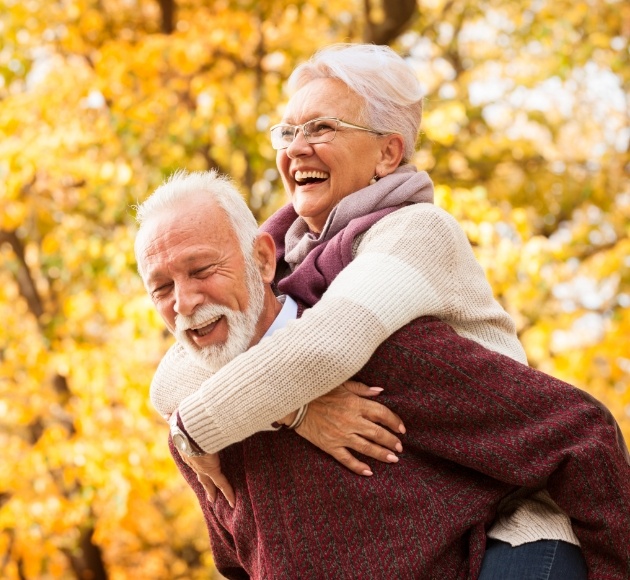 Are you in need of restorative care? The team at Papageorgiou Dental Associates would love to help. Through a consultation and oral exam, we can help you understand your needs and propose a treatment that will help you. We can also answer any questions you might have about your treatment. Dr. Papageorgiou and all our doctors want our patients from Natick, Framingham, Wayland, Sudbury, and surrounding areas to be completely comfortable with the care we propose—and excellent patient education is one of the best ways to do that.