Invisalign – Natick, MA
A Discreet Way to Improve Your Smile
Do you want a straighter smile, but you dread the idea of the visible wires, frequent readjustments, and dietary limitations of traditional orthodontia? No worries! At Papageorgiou Dental Associates in Natick, we have the clear solution for straightening teeth. Invisalign is an excellent option for adults and teens who want to fix their misaligned teeth, but without the worry and hassle so often associated with wearing bracket-and-wire braces. In Natick, the friendly team at Papageorgiou Dental Associates can discuss your smile goals and determine if you are among the many who qualify for the Invisalign clear braces system. At Papageorgiou Dental Associates, we serve the restorative and cosmetic dentistry needs of our treasured patients in Natick, Framingham, Wayland, Sudbury, Wellesley, and other nearby towns. If you're interested in getting a straighter smile with Invisalign clear braces, contact us now! Our knowledgeable dentistry team will be happy to answer your questions or schedule an orthodontic consultation appointment with our skilled dentist offering Invisalign in Natick, MA.
Why Choose Papageorgiou Dental Associates
for Invisalign?
Experienced Dentist and Friendly Team
Morning, Evening, and Weekend Appointments
Teens and Adults Alike Welcome
What is Invisalign?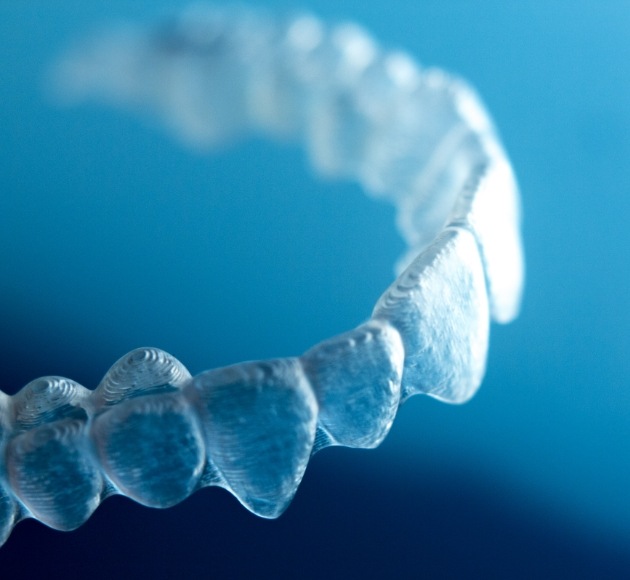 Invisalign clear braces consist of a series of virtually invisible plastic aligners that straighten teeth comfortably and gently—in twelve months or less. Each aligner is custom-made to move your teeth into the ideal position. Your aligners will represent the smile one step closer to the desired end result. Every two weeks, you switch out one set of aligners for the next in the series. Since Invisalign clear braces don't need adjustments, you'll spend less time at our Natick restorative dental office. However, you will need to visit us every six to eight weeks for checkups. These short visits give us a chance to make sure your smile is shifting into position according to our detailed Invisalign treatment plan. We'll visually examine your smile, and if we're ever concerned your treatment is not progressing according to plan, we may capture diagnostic images in order to make adjustments to your overall treatment to get your smile alignment back on track. The majority of patients complete their treatment plans in eight to eighteen months. Thanks to advances in Invisalign technologies, materials, and treatment methods, that includes treatments for patients with advanced alignment concerns like over, under, and crossbite.
What are the Benefits of the Invisalign Clear Braces System?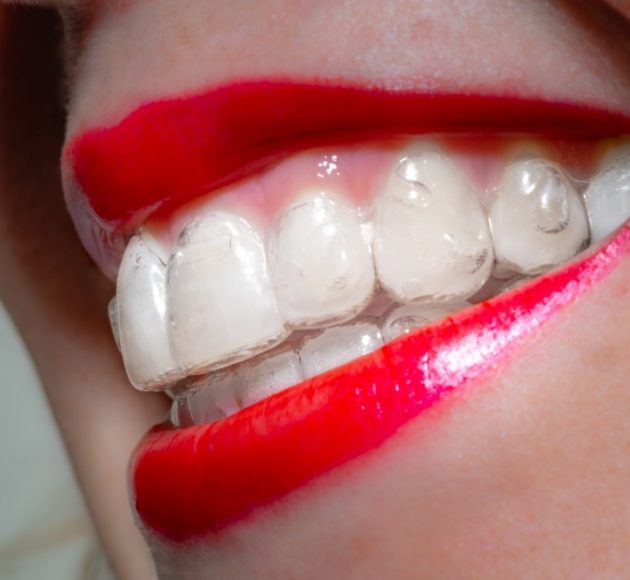 Every orthodontic treatment has its own unique advantages and disadvantages, and no treatment is right for every patient. If you and the Papageorgiou Dental Associates team decide that Invisalign is right for you, you can expect numerous benefits, including:
Since the aligners are made from smooth, clear plastic, no one will notice your "braces." You can speak and smile with complete confidence throughout your Invisalign treatment plan.
Brushing and flossing are easier because you can take out the aligners and complete a normal oral hygiene routine. Traditional braces require patients to use specialized flossing tools and take extra care to clean around brackets and wires, and they can discolor the surfaces of teeth when not properly cleaned.
The aligners are removable, which means you can eat or drink whatever you want, any time you want. There are no dietary changes or limitations required when you're straightening your smile with Invisalign clear braces.
Cleaning the aligners is as simple as brushing them with cool water at least once a day. You should also rinse the aligners before replacing them after meals or tooth brushing and flossing.
You'll save time throughout the course of Invisalign treatment with fewer checkup visits than are necessary for traditional braces. You'll also save time overall with most plans completed within twelve months.
Invisalign trays improve treatment comfort since they do not have brackets and wires that can irritate soft tissue. Instead, the smooth surfaces of Invisalign trays allow you to straighten smiles without damage or irritation to soft tissues.
Who Should Consider Invisalign?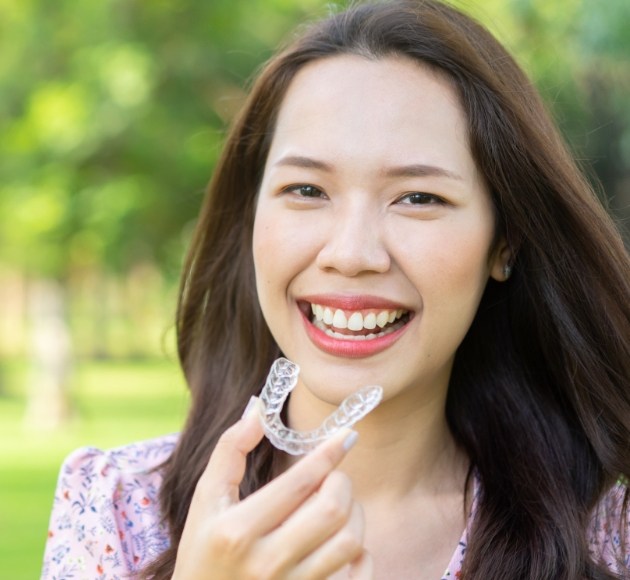 Thanks to the ever advancing techniques used to offer Invisalign orthodontics, more patients than ever before can receive alignment tray orthodontic treatment. During a smile alignment consultation, our team will evaluate your smile and help you determine whether or not Invisalign is a good treatment option for you. Some of the patients who most benefit from Invisalign orthodontics include:
Patients who are too busy to keep up with frequent orthodontic adjustments
Patients who have allergies or sensitivities to metal
Patients who want to maintain a professional image during orthodontic treatment
Patients who play a wind instrument and want to avoid changes to embouchure caused by bracket and wire braces
Patients who play contact sports who would be at greater risk for injury with bracket and wire braces
Patients who have sensitive teeth and/or gums
What Happens After my Invisalign Treatment?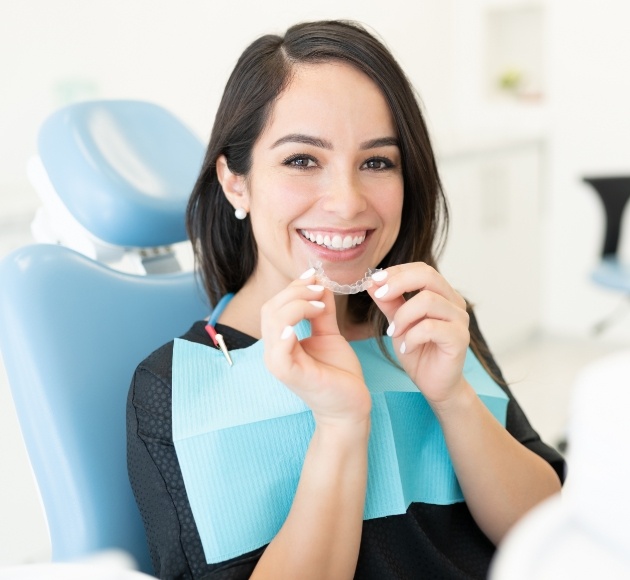 Following your Invisalign orthodontic treatment, you'll need to wear a retainer. When teeth shift into a new position, the supportive bone and gum tissue need time to reattach in order to hold the teeth firmly in their new alignment. The good news is that we are often able to use clear retainers that closely resemble your Invisalign trays, so you can continue to look and feel your best.
How Long Does Invisalign Take?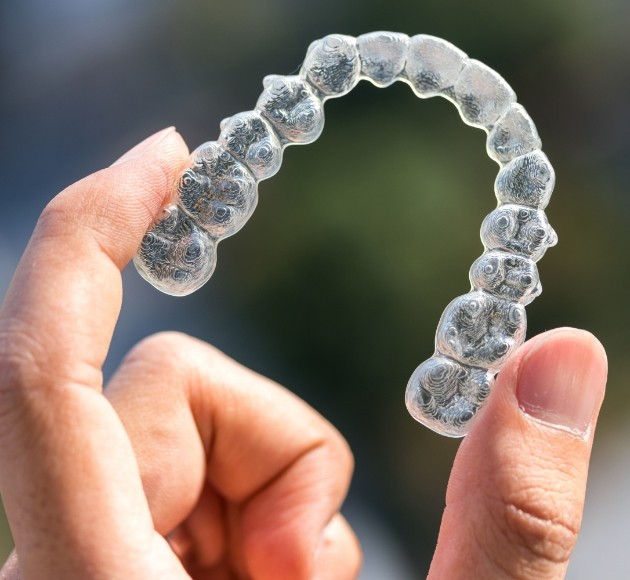 The average duration of an Invisalign treatment is about 12 months; however, there are several factors that influence the length of time it takes to fix your alignment issues. If your orthodontic concerns are minor, you can be finished with your treatment in only a few months, but if your needs are more complex, it will take a bit longer. To ensure nothing slows your progress, it is important to follow your treatment plan correctly.
Learn More About Invisalign Treatment
How Much Does Invisalign Cost?
Invisalign is more affordable than you might think. Dr. Papageorgiou provides you with a custom estimate during your initial consultation. The amount you pay is determined by your individual treatment plan. There are several factors that influence the cost, such as the number of aligners needed. Dr. Papageorgiou takes the time to discuss the specific costs of your treatment and your payment options to keep your new smile affordable, such as using your dental insurance.
Learn More about the Cost of Invisalign
Invisalign Frequently Asked Questions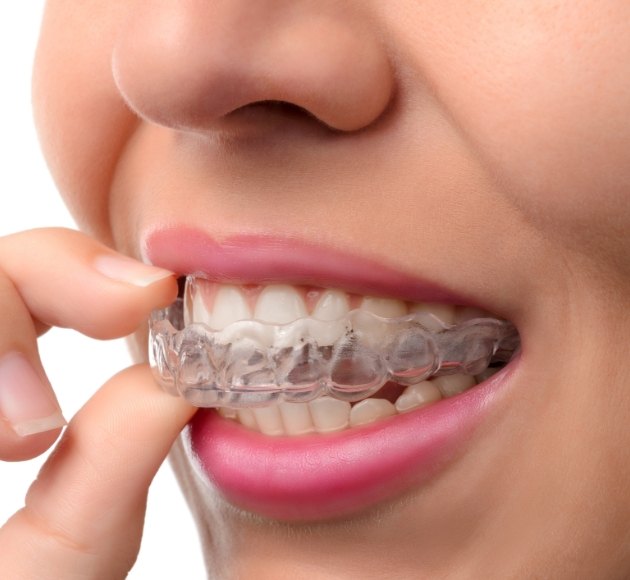 It's hard to believe that it's possible to get a straighter smile without wearing braces; however, that's exactly what Invisalign can achieve for patients. There is probably a lot more you'd like to know about this innovative treatment, so we've compiled some common Invisalign questions for you here so you'll have all the information you need to make an educated decision about Invisalign treatment.
How can Invisalign Work Without Metal Brackets and Wires?
Instead of traditional braces, Invisalign uses clear plastic trays that are customized to your unique treatment plan to apply light pressure and gradually move your teeth.
How Often Should I Wear My Aligners?
During Invisalign treatment, aligners should be worn at least 22 hours each day in order to achieve the best results. You will receive a new set of aligners every two weeks and you can often change them out at home, resulting in fewer required visits to your dentist.
Will Invisalign Affect the Way I Talk?
Patients sometimes experience a short adjustment period that could affect their speech as they're getting used to their new aligners. Most patients tell us that this didn't last long, and once they're used to them, the aligners are comfortable to wear.
How Long Does Treatment With Invisalign Typically Last?
While each patient's needs are unique, most Invisalign cases can be completed in around 12 to 18 months with excellent patient compliance.
Are There Diet Restrictions With Invisalign?
One of the best benefits about Invisalign treatment besides discretion is that the aligners are removable. This means that you can easily take them out for eating, brushing, and flossing. Therefore, there are no restrictions on your diet or changes to your home care routine needed to complete treatment.
Who is a Candidate for Invisalign?
Since Invisalign can't correct complicated issues with your bite, it typically works well for patients with slight alignment issues which include:
Rotated teeth
Gaps or spacing between teeth
Slight overlapping
General alignment issues
Your dentists at Papageorgiou Dental Associates can determine if Invisalign is the right treatment for your needs during a consultation where we will take x-rays, photos, and perform a thorough examination. If you move forward with Invisalign, we will even be able to show you how your finished smile will look with 3D technology.
How Much Does Invisalign Cost?
The cost of Invisalign is different for each patient depending on the complexity, and how long treatment is expected to last. Invisalign is typically comparable to the cost of full orthodontic treatment.
You will be told how much treatment will cost during your consultation with your dentist at Papageorgiou Dental Associates. We also have wonderful options for financing through Care Credit that can help break the cost of treatment into affordable monthly payments.
Does Insurance Cover Invisalign Treatment?
A lot of insurance plans include an orthodontic benefit that pays for a portion of treatment. If your insurance has an orthodontic benefit, Invisalign would typically be included.
If you have questions about what your insurance covers, our friendly and knowledgeable staff members are happy to help you determine what your insurance benefit for Invisalign might be, and what your out of pocket expense is.