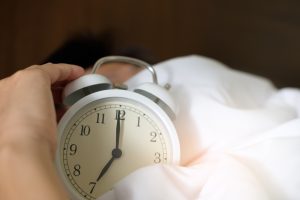 If you're among the 22 million people living with sleep apnea, you know it can be challenging to get a good night's rest. If you find yourself tossing and turning more often since the weather has warmed up, it may not be from a bad mattress. Believe it or not, summer can negatively affect your sleep quality. Don't worry, your sleep dentist has 4 tips to help you doze off quickly.
1. Keep your room at the right temperature.
Did you know it takes your body time to adapt to temperature changes? If you're feeling hot, it can prevent your body from reaching REM sleep. As a result, your body won't gain the benefits from hormones it needs for you to feel your best.
You can help your body adjust by placing your bed near an air source, like a fan. Make sure any ceiling fans are blowing air downward instead of upward. It will help you cool down, so you can fall asleep quickly. According to SOM Sleep, the ideal temperature for a bedroom is between 60 to 67 degrees.
2. Treat your allergies to prevent congestion.
Seasonal allergies can lead to sneezing, a runny nose, and itchy eyes, but those aren't the only concerns. Allergies can make it difficult to breathe, which can affect your ability to sleep. The congestion caused by pollens can irritate already narrowed airways.
Besides taking an antihistamine, don't keep your windows open in your bedroom to reduce allergens in your home. You'll also want to commit to washing your bedding weekly and showering every night before bed. An air purifier is another step you can take to combat your allergies.
3. Don't spend too long outside.
The weather is perfect for spending long days under the summer sun. While your body relies on the fresh air and vitamin D, too much time outdoors delays the release of melatonin, which can make it harder to fall asleep.
Since your body depends on light and dark cues, head indoors and close your blinds earlier in the day. This will help keep your body's natural clock functioning correctly.
4. Treat your sleep apnea.
Sleep apnea therapy is the most important piece of a restful night's sleep. Never go to bed without using your CPAP or oral appliance to keep your airways open to stop pauses in breathing. You'll breathe easier and sleep comfortably, so you can wake up feeling your best.
Don't let sleep loss affect your summer plans. A few simple changes can promote your sleep quality, so you will have the energy you need to make most of the blue sky and sunshine.
About Dr. Christina Papageorgiou
Dr. Papageorgiou earned her dental degree at the University of Michigan School of Dentistry before continuing her training at many prestigious facilities, including Spears and Pankey Institutes. Through her advanced training, she can provide solutions for sleep-related disorders, including sleep apnea. If you suffer from chronic snoring or suspect sleep apnea, contact our office today to schedule your consultation.