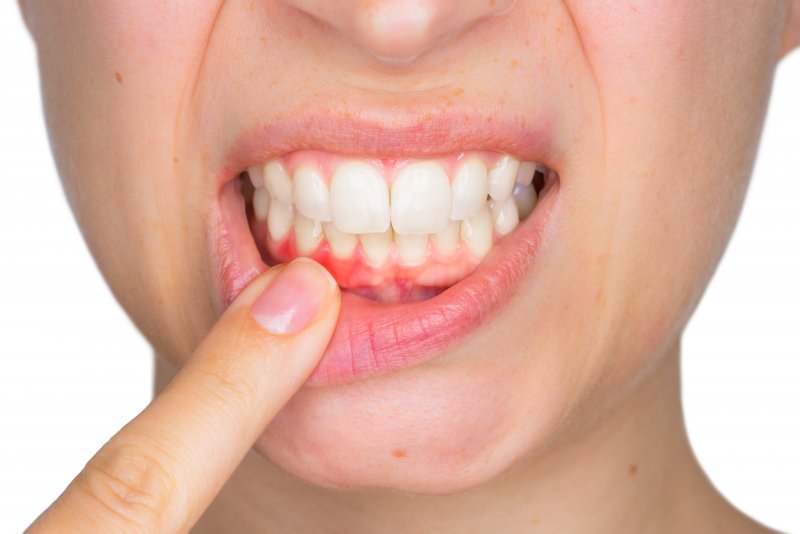 According to findings from the Centers for Disease Control and Prevention (CDC), one in every two adults in the United States who are over the age of 30 have some form of periodontal disease. When left untreated, it can cause a wide variety of issues. This can be anything from tooth loss to an increased risk for diabetes and heart disease. Your dentist may be able to help you reverse your symptoms and restore your smile back to health with gum disease therapy in Natick, but this all depends on what stage you are experiencing. Continue reading to learn about the different stages of periodontal disease and what this means for your smile.
Stage 1: Gingivitis
This is the most mild form of gum disease. Symptoms often include redness, swelling, and bleeding of the gum tissue. For this stage, the signs are mostly painless which is why so many people have it and are unaware. Gingivitis is the only stage of gum disease that is reversible because it has not had enough time to attack the jawbone. In order to get your smile back to health, good oral hygiene practices and regular checkups are necessary.
Stage 2: Mild Periodontitis
Once you reach this second stage of gum disease, it is no longer reversible. However, it can be managed. At this stage, the infection of the gums has spread to the bone. The bacteria have evolved and become more aggressive, causing additional bone loss. This cannot simply be tackled with good oral hygiene practices. You will require the help of your dentist in Natick. Signs are increased swelling and redness, bad breath, bleeding, and probing depth between four to five millimeters.
Stage 3: Moderate Periodontitis
The effects of stage three periodontitis cannot be reversed. At this point, the probing depths have reached six to seven millimeters. Bacteria is not only attacking your bone but can also affect your immune system and bloodstream. Treatment at this stage would include scaling and root planning by your dentist. This is a type of deep cleaning that is used to remove deposits of bacteria that are deep in the gums.
Stage 4: Severe Periodontitis
This is the final stage of periodontal disease and occurs when the infection becomes deeper and the bacteria evolves into disease-causing bacteria. Patients with severe periodontitis experience additional bone loss, swollen gums that ooze pus, temperature sensitivity, loose teeth, painful chewing, severe halitosis, and tooth loss. This stage requires periodontal surgery or periodontal laser therapy to clean out the bacteria filled pockets that have formed between the gums and the teeth. At this point, urgent treatment is necessary, or it can lead to serious health problems elsewhere in the body that can even be life-threatening.
Gum disease can become very serious, but it is easy to prevent! By seeing your dentist regularly, maintaining good oral hygiene, and being aware of your risk for the condition, you can maintain a healthy and happy smile.
About the Author
After obtaining her Bachelor in Dental Surgery degree from Government Dental College in India, Dr. Medha Singh earned her Doctor of Dental Medicine and Certificate of Advanced Education Program in Periodontology from Tufts University School of Dental Medicine. She is a Diplomate of the American Board of Periodontology. For more information on gum disease or to schedule an appointment with Dr. Singh, visit her website or call (508) 545-1126.