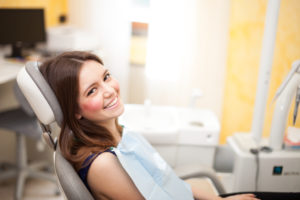 It's National Dental Hygiene Month, which is a time dedicated to stressing the importance of practicing excellent oral hygiene and visiting a dentist on a regular basis for preventive care. Do you really need a reminder, though, that these are important activities to participate in? According to some national statistics, Americans are far behind in this area. As you continue reading, you'll learn why dentists have chosen the month of October to emphasize dental hygiene and how you stand to benefit from receiving a teeth cleaning in Natick.
When You Think of October, You Envision This
The month of October is known for trick-or-treating, costumes and loads of candy. The problem is oral bacteria simply love to feed on the sugar left behind when sweets are consumed. If allowed to hang around, they release acids as they digest the sugar, that can eventually bore into the enamel (the outer layer of the teeth) and cause cavities to develop.
One of the goals of National Dental Hygiene Month, then, is to remind Americans that there is a way to fight back!
What Your Dental Hygiene Should Consist of
For only a few minutes out of each day, you can take some simple steps to protect your teeth and gums. Here are the basics:
Brush – When you brush your teeth, the back-and-forth movement agitates and removes most of the debris.
Floss – To clean the remaining surfaces of your teeth where food particles and bacteria hide, it's essential to floss. The flexible material allows you to get into the tight spaces to prevent bacteria from seeping beneath the gum line.
Use a Tongue Scraper – It's equally important to clean your tongue, especially given that it makes contact with every part of your mouth. By gently gliding the scraper over your tongue after brushing and flossing, you can remove any debris that has become lodged between the papillae (tiny bumps that line the tongue).
In addition to performing the above activities, you should also be sure to drink water throughout the day, as it acts as a natural rinsing agent.
How Visiting Your Dentist Can Help
To be fully protected, don't hesitate to visit your local dentist for preventive care. At these appointments, which you should attend semi-annually, you'll receive a cleaning and dental checkup in Natick to ensure your teeth and gums stay healthy and strong.
It also provides an opportunity to receive expert tips on ways to improve your dental hygiene. So take advantage of National Dental Hygiene Month by committing to what you've learned and partnering with your dentist in Natick!
About the Author
Dr. Christina Papageoriou is a graduate of the University of Michigan School of Dentistry. For the past two decades, she has provided the absolute best in dental care, and as a commitment to further growth, she has taken hours of continuing education, which includes advanced training at the Spears and Pankey institutes. Dr. Papageoriou provides preventive care at her private practice, and she can be reached for more information through her website.