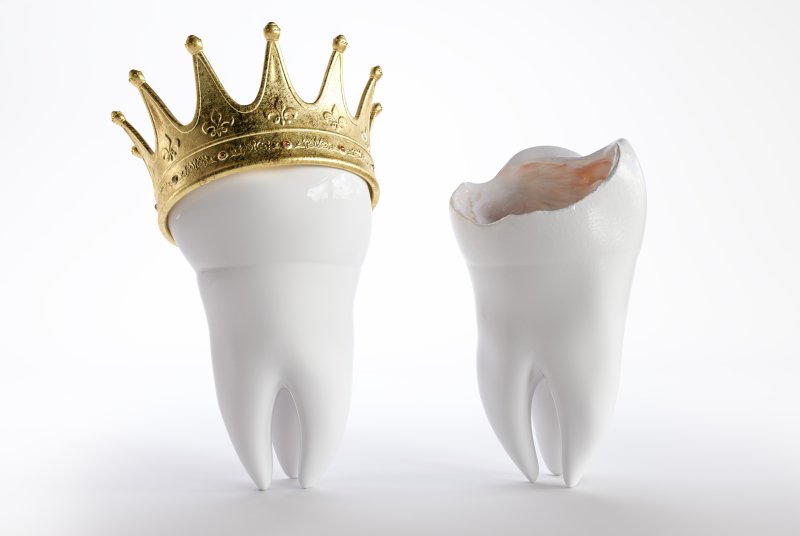 All hail a restored tooth! Dental crowns are the most common type of dental restoration. These custom-made caps cover the entire tooth above the gum line and allow an improved appearance, function, and protection. From a misshaped or discolored tooth to restoring or protecting a broken tooth, dental crowns are supreme! But how long can you expect them to last? Your dentist is here to fill you in on their life expectancy and what you can do to help them last as long as possible.
How Long Do Dental Crowns Last?
The average lifespan of a dental crown ranges from 5 to 15 years. However, it's possible for them to last as long as 25 to 30 years! The key factors are your oral hygiene practices and habits. The level of day-to-day wear varies for everyone based on their level of care. If you are mindful of the best dental practices for your crown, you'll be able to maximize its longevity. Alternatively, if you don't take good care of your dental crown, its reign could be cut short.
What are the Best Practices for Protecting a Dental Crown?
As stated above, you can optimize your crown's life expectancy through your everyday habits and practices. The following tips will help extend the lifespan of your restoration:
Good Oral Hygiene: Brush two to three times every day, and floss on at least a daily basis. It is important to prevent plaque and food particles from slipping underneath the dental crown, which can lead to tooth decay and gum disease. Pay close attention to the gum line when brushing.
Eliminate Bad Habits: Do not bite on fingernails or other hard objects, as they can easily damage your crown. A helpful motto is "My teeth are not tools!".
Be Gentle: Be mindful of grinding or clenching your teeth during the day; it could eventually cause your crown to crack. A mouthguard can protect your teeth from grinding at night.
Make Dental Appointments a Priority: Visit your dentist twice a year for checkups and cleanings. They'll be able to check for damage to the crown as well as signs of decay and other oral health issues underneath it.
How Will I Know My Crown Needs to Be Replaced?
You will need a new crown if your current one is cracked or chipped. Even if the damage doesn't seem very serious, it could still give bacteria an opening to the underlying tooth. You should also see your dentist right away if your crown doesn't fit properly or is affecting the alignment of your bite. They will also keep track of the health of your crown during your bi-yearly visits so any problems can be caught early.
Dental crowns won't last forever, but good habits and consistent care can help them live to their full expectancy. With this helpful information and your visits with your dentist, your smile can last for years to come!
About the Author
Papageorgiou Dental Associates serve the families of Natick through the expertise of Dr. Christina Papageorgiou and Dr. Paola Buckley. With early, late, and weekend hours, they make it a priority to offer comprehensive care for all of your smile needs. They provide a range of dental restorations, including durable and beautiful custom-made porcelain crowns. For more information about crowns or to schedule a checkup appointment, contact them through their website. You may also conveniently text or call (508) 545-1126.